Global military fixed-wing aircraft market to reach $110.6 billion in 2033, forecasts GlobalData
Recent developments in the fields of stealth, speed, connectivity, electronic warfare, and communication have led to an increased focus on developing new aircraft capable of operating in a network-centric battlefield. To meet this demand, emerging militaries like India, Turkey, and Indonesia are focusing on indigenization through a variety of means, such as technology transfer agreements, domestic manufacturing, and partnerships with foreign companies. Against this backdrop, the global military fixed-wing aircraft market is forecast to grow from $71.7 billion in 2023 to $110.6 billion by 2033, at a compound annual growth rate (CAGR) of approximately 4.3%, according to GlobalData, a leading data and analytics company.
GlobalData's latest report, 'Global Military Fixed Wing Market 2023-2033,' reveals that the combat aircraft segment is expected to dominate the military fixed-wing aircraft market, owing to the acquisition of 4.5th and 5th generation multi-role combat aircraft for improving air superiority and precision strike capabilities. The major players in the combat aircraft segment include Lockheed Martin , Northrop Grumman , Turkish Aerospace Industries, Korea Aerospace Industries, Hindustan Aeronautics Limited, and Dassault Aviation, among others. These companies are investing heavily in R&D programs aimed at the development of advanced fifth-generation combat aircraft.
Udayini Aakunoor, Aerospace and Defence Analyst at GlobalData, comments: "The growth of the military fixed-wing aircraft market is driven by the increasing demand for military aircraft from countries, such as the US, China, India, and Japan, which are modernizing their militaries and are looking to acquire new fixed-wing aircraft to replace the aging aircraft fleet with advanced next-generation platforms featuring superior performance characteristics, avionics, and weapons."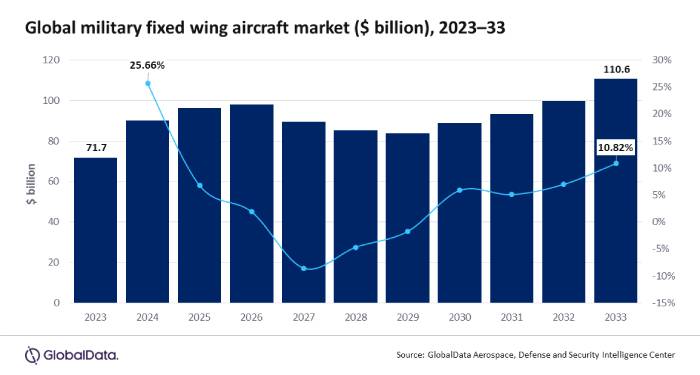 Increasing geopolitical tensions and conflicts have forced countries to raise their budgetary allocations for the purchase of next-generation aircraft. A few countries have also initiated cooperative military aircraft development and manufacturing programs to share project expenses, manufacturing expertise, and technology in order to create a collaborative strategy for meeting their future requirements.
For instance, Indonesia and South Korea are collaborating on the development of the KF-21 Boramae. Similarly, the UK, Japan, and Italy are jointly developing next-generation combat aircraft under the Global Combat Air Programme (GCAP). By indigenizing their aircraft programs, emerging militaries intend to reduce their dependency on highly regulated and critical imported equipment and effectively manage their vulnerability to global supply chain disruptions.
Aakunoor concludes: "The cooperation between countries in the development of next-generation aircraft is a positive development that will help to reduce costs and improve capabilities. Until recently, the development and manufacturing capabilities for military aircraft were concentrated in American and European nations. However, over the past few decades, countries in the Asia-Pacific region have been able to make significant progress in this area. This is enabling these countries to procure the latest generation of aircraft, which offer a balance between cost and performance."
Source: Globaldata