Fort Worth, TX (October 8, 2020)
Bell, a technology company, celebrated its 85th anniversary this past July, reflecting on its growth as a company committed to redefining flight.
Founded by Larry Bell in 1935, the company has been at the forefront of mobility, constantly finding ways to create innovative solutions. From breaking the sound barrier with pilot Chuck Yeager and the incredible Bell X-1 plane to developing the world's first tiltrotor aircraft, Bell has consistently sought out the most innovative methods to improve its products.
Duncan van de Velde, Managing Director Europe & Russia, Bell said: "As we celebrate our 85th anniversary, we also applaud the innovations that have made us one of the most forward-thinking and economical companies in our sector, with the smartest technology on offer.
"We also look to the future and the need to ensure that we continue to provide our customers with the very best products and support solutions. Having more than 1,098 Bell aircraft in Europe across military, corporate, parapublic, search and rescue and cargo transport sectors over the years, we have a strong base to build on. Bell is continuing to grow its European footprint by collaborating with strong and innovative technology companies in Europe
With mobility trends such as air taxis capturing the imaginations of communities across the region, our role as a company will be to evolve our approach in the development of new flight systems. Thinking above and beyond is what we do. For more than 85 years, we've been reimagining the experience of flight – and where it can take us."
Bell currently has a suite of next-generation products in development including the Nexus air taxi concept which aims to revolutionize the urban commute. Another product in development is the Autonomous Pod Transport (APT), which can go further and faster while carrying payloads at increased ranges and speeds unlike any other unmanned aerial vehicle (UAV) in the market today.
"The future of Bell is linked to the future of flight. For this, Bell has evolved to fulfill this vision and is no longer just a company that works in aviation but rather a technology company that is redefining flight. We are wide open to any technology, opportunity, or service model that will help society become more mobile or more effective in the vertical dimension," stated Robert T. Hastings, Bell Executive Vice President, Strategic Communications and Government Affairs.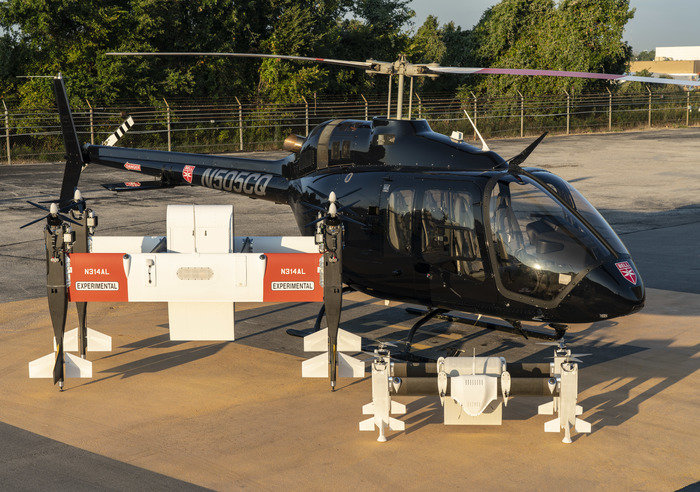 From the military aircraft, such as the Bell V-22 Osprey, to the versatile Bell 505 light aircraft, Bell has developed a strong portfolio of products used for a variety of different industries including medical, defense, tourism, and logistics, establishing itself as a pioneer in the aviation industry.
Bell continues to invest in future technology inside its aircraft, such as fly-by-wire systems, upgraded avionics suites, and instrument flight rules (IFR) kits to delivers unique features that cater to all its customers.This dedication to finding better solutions is what sets Bell apart as an industry leader.
Source : Bellflights
https://www.bellflight.com/