Let's Go! We have started selling the "Peach Unlimited
Pass"
A New Style in Travel –
・ All domestic routes are unlimited for one month, with the boarding period from Nov. 1
to Nov. 30
・ Starting Oct. 19 (Tue), a total of 150 tickets will go on sale at 12:00 noon
・ Two types of tickets available Lite start at 19,800 yen, Standard start at 29,800 yen
・ Peach points worth 1,000 yen will be presented to customers who cooperate in preventing
the spread of the coronavirus infection
・ We are conducting a joint campaign with the flat-rate accommodation service HafH
(half)
Osaka, Oct. 12 2021 – Peach Aviation Co., Ltd. ("Peach," President: Takeaki Mori) will start the
sale of the Peach Unlimited Pass, a flat-rate ticket service that allows unlimited travel on all
domestic routes for one month, at 12:00 noon on Oct. 19 (Tue).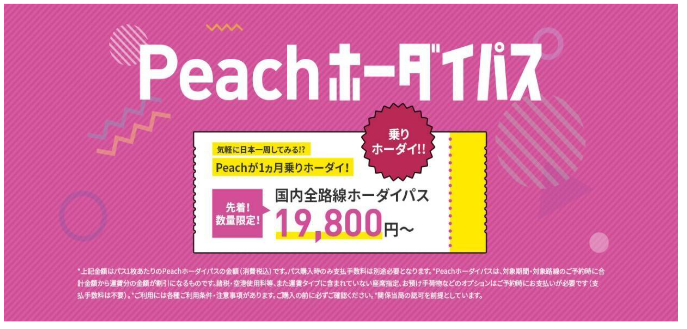 The Peach Unlimited Pass is a service that allows unlimited travel on all domestic routes
for one month from Nov. 1 to 30, 2021 without route limitations.
There are two types of Peach Unlimited Pass: lite and standard. Lite is 19,800 yen and 29,800 yen, and Standard is 29,800 yen and 39,800 yen1. With Standard, seat reservation fees2 and one checked bag*3 are free. We will sell a total of 150 Lite / Standard tickets. Please see the next page for further details.
All 33 domestic routes are eligible from Memanbetsu in the north to Ishigaki in the south, including the Fukuoka-Ishigaki route (launched on Oct. 31), the Nagoya (Chubu)-Sapporo (New Chitose) route, which has increased flights, Sendai and Okinawa (Naha). Whether you're exploring an area you have not yet visited, or a new region on a "workcation" or
teleworking as a new style of work, you can use the Peach Unlimited Pass for a great deal.
Also, we will present 1,000 yen in Peach points that can be used to pay for tickets on Peach, etc. to customers expressing cooperation in preventing the spread of the coronavirus.
Peach will continue to take thorough countermeasures to stop the spread and build new travel styles with customers while contributing to the revitalization of local economies as a public transportation system connecting various regions of Japan.
To commemorate the launch of the Peach Unlimited Pass, we will conduct a New Lifestyle and Workstyle campaign with KabuK Style, Inc. ("KabuK Style," CEO Kenji Sunada), which manages the HafH flat rate travel subscription service. This service offers monthly fixed rate stays at 949 locations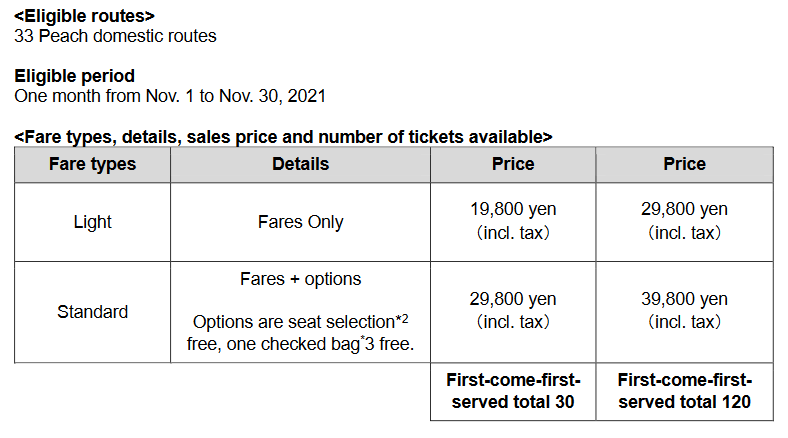 *1 The first 30 ticket will be sold at 19,800 yen (including tax) for Lite and 29,800 yen (incl. tax) for Standard.
*2 Only Standard seats and Pleasure seats
*3 Weight up to 20 kg, 3 sides total up to 203 cm

<Special Notes>
•Registration of a Peach account is required for purchase and use.
•The above amounts are for the Unlimited Pass for all domestic routes (including consumption tax) per pass.
•With Peach Unlimited Pass, the fare amount is discounted from the total amount when making a reservation for the eligible period and routes. Taxes, airport charges, seat selection, checked baggage and other options not included in the fare type must be paid at the time of booking (no payment fees required).
•Only one person can make a reservation and board a flight for each pass.
•A separate payment fee is required only when purchasing a pass.
•The number of tickets for sale is limited, and the sale ends as soon as the tickets sell out.
•Various Simple Peach fare conditions apply to matters not described in these special notes.
•If a customer violates the terms, use of the Peach Unlimited Pass may be suspended without notification.
•Only customers 12 years of age or older who have official identity verification documents that includes a photo (driver's license, passport, basic resident register card, student ID, etc.) can use this service.
•Only those with names registered when purchasing can use this service. Please be sure to bring your identity verification documents (driver's license, passport, etc.) as we may need to verify your identity at each airport when boarding flights.
•If the service is used by someone other than the registered person, both the reservation and the Peach Unlimited Pass will be invalidated and, in such case, the amount for the purchases of the Pass, optional purchases, and other taxes will not be refunded.
•If you do not board Peach Unlimited Pass reserved flights three times or more, your use of the Pass may be suspended.
•Peach Unlimited Pass reservations can be made from the Lite and Standard dedicated websites, respectively.
Please check the following special page for further details.
•Peach Unlimited Pass reservation details cannot be changed. If there is a schedule change, please cancel your reservation and make another reservation.
•To cancel your reservation, please use the reservation confirmation / change site just like a normal reservation.
•Please note that no refunds will be given for reservations canceled due to customer circumstances.
•If a reserved flight is delayed for more than two hours or canceled, it will be transferred to the same route / same day. Taxes, checked baggage and other optional purchase fees will be refunded only if the transfer cannot be made to the same day / same route.
•Reserved flights may be cancelled due to the spread of the COVID-19. We ask for your understanding on these
matters.

<Sales period>
Oct. 19, 2021 (Tue) 12:00 – until sold out

•Peach Unlimited Pass All Domestic Routes Unlimited Pass Special Page
https://www.flypeach.com/um/specials/campaign/hodaipass

< Peach X HafH Campaign Overview>
HafH members who have purchased the Peach Unlimited Pass and meet the following conditions and apply for this campaign will receive a gift of Peach Points (equivalent to 3,000 yen) as a gift.

•Peach X HafH Campaign Site:
https://www.hafh.com/topics/12100

About HafH (https://www.hafh.com/)
This is a subscription service for a new lifestyle that aims to be a platform to live anywhere in the world at any time for a fixed monthly fee. We propose a new lifestyle through liberalization of travel, making travel easier and more convenient by flattening prices for accommodations such as hotels and through various alliances with transportation companies.

Eligibility Those meeting all the following conditions are eligible.

1. Those purchasing the Unlimited Pass

2. HafH members
*Standard (maximum 3 nights /month), Standard Plus (maximum 5 nights / month), Premium (maximum 10 nights / month), Premium Plus (one month) plan users from Nov. 1 to 30 who have stayed at an accommodation for 1 night or more are eligible.
*Those who have become HafH members after purchasing an Unlimited Pass are also eligible.

3. Those entering from the Peach x HafH campaign dedicated site
How to participate After purchasing the Unlimited Pass from the Peach website, apply for this promotion through the HafH joint promotion website.
Promotion period Oct. 19, 2021 12:00 p.m. to Nov. 30, 2021 11:59 p.m.
Prizes Peach Points equal to 3,000 yen
*These will be awarded in order of purchase starting at the end of Dec., 2021.
At a later date, 100 HafH coins that can be used to make reservations for
accommodations at HafH locations will be given to those who responded to
the survey.
*Those who have cleared the entry conditions are eligible.
•Please see the HafH website (https://www.hafh.com/) for details on usage plan requirements and HafH coins for eligible HafH members.
•For details on Peach Points, please visit the Peach website (https://www.flypeach.com/lm/fares/peach_point).
Source: Peach
Source: Peach