The Renaissance of the 21st Century Aircraft Propeller
Technology-Enabled, Military-Proven and Environmentally-Friendly
Tribune by Jean-François Chanut, General Manager, Propeller Systems , Collins Aerospace
The unmistakable whir and hum of an aircraft propeller – it's a sound I never get tired of hearing. Given the turboprop's tradition of military and commercial service – and its role in classic cinema — some might say it's the sound of a bygone era. But they'd be wrong.
As someone who spends his days working on propeller innovation, I associate the sound with the future – with forward movement – and the next generation of sustainable propeller aircraft.
An aircraft propeller renaissance
After more than a year of pandemic-related disruptions to aviation, the entire industry is ramping up its commitment to lowering carbon emissions. The aircraft propeller has an important role in these plans, especially for companies like ours that serve multiple sectors of aviation. Before we take a look at specifics, it's useful to share some background and dispel some common misconceptions about propeller aircraft.
The turboprop has a history of sharing the spotlight. Since 1939, when the turbojet engine made its first flight on the Heinkel He 178, much of the focus on innovation and aviation technological superiority was centered around the jet engine. It wasn't long before aviation pundits and conventional wisdom had consigned the turboprop engine to less glamorous routes and a questionable future.
Innovation prompts a comeback
For years, the general public tended to overlook the inherent advantages of turboprop systems, such as:
Shorter runways for take-off and landing, which enable commuter aircraft to connect to smaller airports in less populated regions, therefore enabling regional economic development.
A reduced environmental footprint — propeller-driven aircraft consume 30 to 40 percent less fuel than most other similarly-sized regional jets, emit fewer greenhouse gases, and aren't as noisy around the airfield, making air operations much more acceptable nowadays.
The ability of tactical military cargo aircraft to use grass or dirt runways so they can operate closer to the theater of operations, which optimizes the distribution of precious payload.
These benefits, while related to cost savings and operational efficiencies for customers, also have great potential to reduce fuel burn and carbon emissions for the industry. And, as research continues into new, more sustainable power sources, such as biofuels or hydrogen, and as engine innovations shift to become more electric or hybrid-electric systems that use fuel and electricity, the case for propeller-powered aircraft supporting aviation's sustainability goals can be expected to grow even stronger.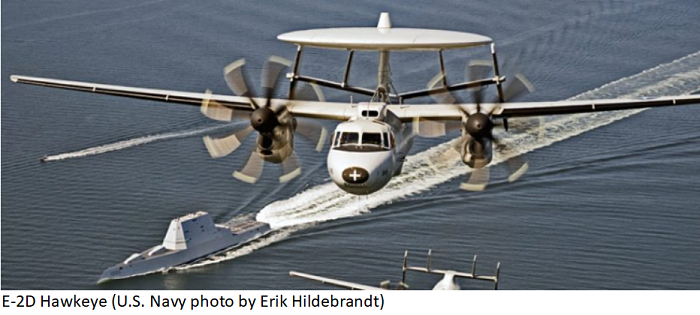 Success in the military sector
In addition to the upside for the environment, perhaps nothing speaks more eloquently to the renaissance of the propeller than the fact that it is military-proven. In 2019, the U.S. Navy completed the longest continuous flight ever recorded by an E-2 Hawkeye, which was equipped with two 8-bladed NP2000 composite propellers. While the eight-hour flight was primarily a demonstration of the E-2D's new in-flight refueling capability, the NP2000 retrofit considerably lowered cockpit noise and vibration and made the pilots' environment less demanding and more manageable.
Recent propeller innovations have benefitted the C-130H Hercules, as well. Electronic propeller control systems reduce vibration and interior noise by about 15db in the cockpit, while blade design increases thrust by about 20 percent during low-speed acceleration. This allows for shorter takeoff distances and greater safety for crews. And new propellers like the NP2000 enable maintenance operators to remove and replace individual blades on-wing, without removing the entire propeller system.
Streamlined diagnostics, high reliability and individual blade replacement lead to greater airplane availability and operating cost savings.
… propeller-driven aircraft consume 30 to 40 percent less fuel than most other similarly-sized regional jets, emit fewer greenhouse gases, and aren't as noisy around the airfield.
Enhancements make new missions possible
Design advancements have enabled the success of the new Airbus A400M, the world's fastest, most powerful, and most versatile military tactical turboprop. Each of the four propellers transmits over 11,000 horsepower – equivalent to a high speed train – and enables acceleration to full power as fast as a Mirage fighter. With these propellers, new aircraft missions are possible, carrying tons of disaster relief cargo or military logistics to places previously unreachable.
Returning to the environmental benefits for a moment, an exciting development took place in 2019 with an ATR 72-600, equipped with our 568F composite propeller. The aircraft flew from Halmstad, Sweden to Stockholm, as part of an effort to deliver "The Perfect Flight" – a flight that by definition focuses on using less fuel and reducing carbon emissions. The flight was powered by two Pratt & Whitney Canada PW 127M turboprop engines chosen for their superior environmental credentials, including using 40 percent less fuel and emitting 40 percent fewer carbon emissions compared with less-efficient regional jets.
And yet, despite these technological advances, some still think that the turboprop – because it's powered by a propeller – isn't as efficient as a jet engine.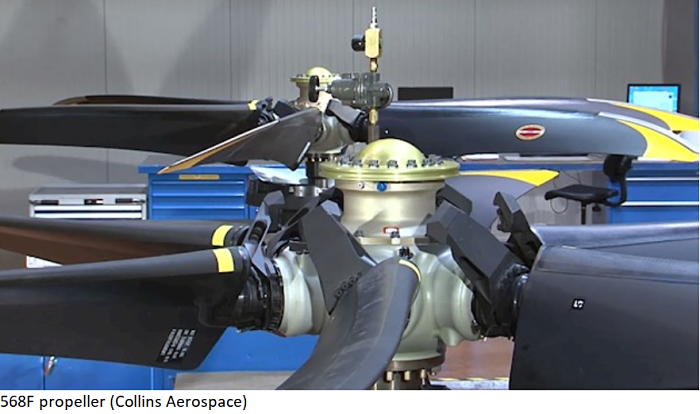 Equally matched for engine efficiency
Turboprop and turbofan jet engines are both turbine engines and equally efficient. The issue isn't really one of efficiency, it's one of flight pattern. Turbofan jet engines are more efficient at higher speeds and higher altitudes. Turboprop engines are more efficient at lower speeds and lower altitudes, which is why turboprop aircraft are so popular for short commuter flights of around one hour or 300 nautical miles.
In fact, advances in propeller technology are so fundamental to the future of smart aircraft, that Collins Aerospace is investing €32M in its Propeller Center of Excellence in Figeac, France. This state-of-the-art center supports advanced design, engineering, testing and certifying for future propeller technologies. The extension will focus on further optimizing propeller design, manufacturing, operations and support, including new propeller connectivity upgrades.
These upgrades will deliver data analytics and advanced diagnostics that monitor the progress of cost-of-ownership programs in real time and foster best-in-line maintenance practices. The beauty of it is that we are targeting applications ranging from existing propeller models to new potential platforms – whether of classic architecture or future electric/hybrid architectures.
The expected benefits for both OEMs and operators are propeller improvements in aerodynamics, noise, weight, fuel consumption and maintenance time and costs, including monitoring and fault prediction capabilities.
Propellers are here to stay. And with good reason. They're technology-enabled, military-proven and environmentally-friendly – well worth a few steps on a tarmac to board a commuter flight.