Space-Comm Expo 2023: Preview of the place space does business
Experts and innovators from across the space sector supply chain are convening at Space-Comm Expo, taking place 7-8 June 2023 at Farnborough International Exhibition & Conference Centre.
Brought to the industry by leading organisers Hub Exhibitions, in partnership with the aerospace events experts at Farnborough International, Space-Comm Expo is the largest UK-based exhibition dedicated to showcasing and sharing insight on the commercial future of space for business, defence and aerospace. Positioned at the forefront of the space industry, Space-Comm Expo is supported by ADS and UK Space.
Discussing the upcoming instalment, Rob Sherwood, managing director of Hub Exhibitions, said: "While remaining agile and at the forefront of the industry, Space-Comm Expo has grown exponentially since its launch, producing more international attendance and exhibition interest year-on-year. With over 150 exhibitors, 3,000 visitors attending the event and a celebrated conference programme in 2022, we look forward to welcoming the sector to Farnborough International Exhibition & Conference Centre in June ahead of this year's global airshow cycle."
World-class speaker programme
This year's event agenda is focused on bringing the future of space to reality, covering topics such as the future of the space economy, digital transformation, space exploration missions, space tourism space sovereignty and global space governance, sustainability and debris mitigation, a multi-orbit future, and creating new economies in space.
Opening the show's conference programme, astronaut Tim Peake will be discussing the current state of the UK space sector and why the industry needs to inspire the next generation of scientists, engineers, and explorers. Peake was the first British ESA astronaut to visit the International Space Station, where his work on its Principia mission was propelled across the globe and is now a best-selling author.
In addition to Tim Peake, the keynote theatre innovators and business leaders that will be sharing expertise, strategies, and research at Space-Comm Expo 2023, include:
. Dallas Campbell, British science television presenter
. Dr Alice Bunn, President, UKSpace
. Trudy Kortes, Director of Technology Demonstrations, NASA
. Kevin Craven, CEO, ADS Group
. Elizabeth Seward, Head of Space Strategy & Future Business, BAE Systems
. Raycho Raychev, Founder an6d CEO, Enduro Sat
. David Ziegler, Vice President Aerospace and Defence, Dassault Systèmes
. Mivy James, Digital Transformation Director, BAE Systems
. Dr Jaime Reed, Vice President, Consulting Services, Space Data Platforms and Applications, CGI
. Sir Martin Sweeting OBE FRS FREng FIET FRAeS, Founder and Executive Chairman, Surrey Satellite Technology Ltd
. Matthew Harris, Space Focus Area Lead, Qinetiq US
. Luigi Scatteia, Associate Consulting, PwC France
Tim Johnson, Policy Director, Civil Aviation Authority (CAA)
. Nick Shave, Managing Director, Astroscale
. Prof Nicolas Peter, Professor of the Practice in Space Policy and International Affairs, International Space University
. Luc Piguet, Co-Founder and CEO, ClearSpace SA
. Jean-Paul Kneib, Academic Director, eSpace
. Craig Miller, President Government Systems, Viasat
. Speaking on the announcement of the programme and the themes of the 2023 event, Kevin Craven, CEO, ADS Group, said: "In Space-Comm Expo's exciting third year, ADS is proud to continue supporting the truly versatile event that connects, showcases, and celebrates the tenacious UK space sector.
"2023 is a pivotal year for the UK space sector with a successful UK launch expected before the end of the year, Space-Comm Expo is a fantastic opportunity for industry to come together and discuss the issues along with the Government strategies which underpin the success of the sector.
"ADS alongside our industry partners including UKSpace are proud to support the event and represent the interests of organisations of the sector."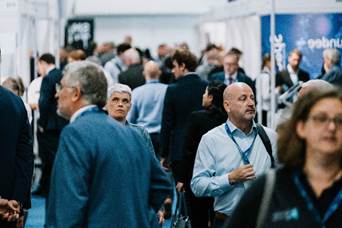 Industry-leading expo
Cementing itself as a staple in the space industry calendar, Space-Comm Expo 2023 has continued its exponential growth, with aerospace leaders and technology providers, including BAE Systems, Northrup, Rolls-Royce, Maxar, CGI, AWS, Dassault, Viasat and Qinetic exhibiting across the two-day event. SMEs such as leading manufacturer of high frequency satellite communications technology, ReliaSat will be exhibiting its new Ka-band electronically steered Phased Array Antenna for the first time in the UK and EFS will be showcasing its project shipping department and worldwide capabilities through its renowned global network.
Three country and state pavilions will also be featured across the exhibition. The Italian Trade Agency, State of Florida and Czech Republic Aerospace pavilions will be showcasing change agents offering global solutions.
The pioneering exhibition includes over 150 industry-leading organisations from 17 countries, with more than 30% of the businesses exhibiting at the event are international.
The place to do business
Meet the Buyer at Space-Comm Expo is where the space industry does business. The programme brings together decision-makers across the supply chain to further the commercial space sector with future-altering partnerships and lucrative deals through pre-qualified and approved meetings.
The 2023 edition of the Meet the Buyer programme has also invited investors and financial backers in attendance in a Buyer capacity, providing an exclusive opportunity for SMEs in the space sector seeking financial investment for their products/services to meet the right people.
All eyes are on the UK space industry this year and Space-Comm Expo is where they will gather in June. To register for Space-Comm Expo for free or to get more information on exhibiting, please visit: www.space-comm.co.uk
Source : Space-Comm Expo