HIGHLIGHTS
· Embraer delivered 9 commercial jets and 13 executive jets (10 light / 3 large) in 1Q21. Total company firm order backlog at the end of 1Q21 was US$ 14.2 billion;
· Revenues in 1Q21 reached US$ 807.3 million, representing year-over-year growth of 27.4% compared to 1Q20, with growth in the Commercial Aviation, Defense & Security, and Executive Aviation segments;
· On April 23, the Company signed a firm order for 30 E195-E2 jets with an undisclosed customer, with deliveries starting in 2022. The 30 firm orders will be included in Embraer's second quarter backlog;
· Excluding special items, adjusted EBIT and EBITDA were US$ (29.6) million and US$ 18.0 million, respectively, yielding adjusted EBIT margin of -3.7% and adjusted EBITDA margin of 2.2%;
· Adjusted net loss (excluding special items and deferred income tax and social contribution) in 1Q21 was US$ (95.9) million, with adjusted loss per ADS of US$ (0.52);
· Embraer free cash flow in 1Q21 was a usage of US$ (226.6) million, which is consistent with normal quarterly seasonality of free cash flow usage in the first quarter. The free cash flow usage represented a significant improvement compared to the US$ (676.6) million in free cash flow consumption in 1Q20 on considerably better inventory levels given steps taken to stabilize production and operations in the midst of the COVID-19 pandemic;
· The Company finished the quarter with total cash of US$ 2.5 billion and net debt of US$ 1.9 billion;
· Due to continued uncertainty related to the COVID-19 pandemic and its impacts on the industry, Embraer has decided to not publish 2021 financial and delivery guidance at this point.
Main financial indicators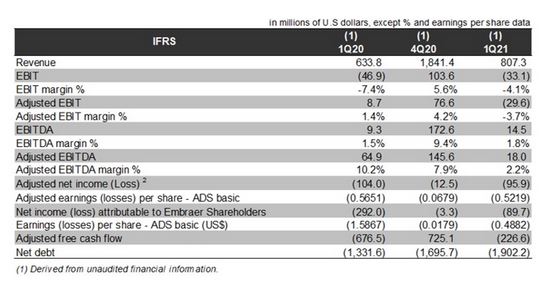 2 Adjusted Net Income (loss) is a non-GAAP measure, calculated by adding Net Income attributable to Embraer Shareholders plus Deferred income tax and social contribution for the period, in addition to adjusting for non-recurring items. Under IFRS for Embraer's Income Tax benefits (expenses) the Company is required to record taxes resulting from unrealized gains or losses due to the impact of changes in the Real to US Dollar exchange rate over non-monetary assets (primarily Inventory, Intangibles, and PP&E). The taxes resulting from gains or losses over non-monetary assets are considered deferred taxes and are presented in the consolidated Cash Flow statement, under Deferred income tax and social contribution, which was US$ 132.4 million in 1Q20, US$ (8.5) million in 1Q21, and US$ 24.3 million in 4Q20. Adjusted Net Income (loss) also excludes the net after-tax special items of US$ (55.6) million in 1Q20, US$ (2.3) million in 1Q21, and US$ 33.4 million in 4Q20.
COMPLETE PRESS RELEASE TO DOWNLOAD: https://embraer.bynder.com/share/DCB71E5E-EC97-4E3B-94CF813EDD2E0456
ABOUT EMBRAER
A global aerospace company headquartered in Brazil, Embraer celebrates its 50th anniversary with businesses in Commercial and Executive aviation, Defense & Security and Agricultural Aviation. The company designs, develops, manufactures and markets aircraft and systems, providing Services & Support to customer after-sales.
Since it was founded in 1969, Embraer has delivered more than 8,000 aircraft. On average, about every 10 seconds an aircraft manufactured by Embraer takes off somewhere in the world, transporting over 145 million passengers a year.
Embraer is the leading manufacturer of commercial jets up to 150 seats and the main exporter of high value-added goods in Brazil. The company maintains industrial units, offices, service and parts distribution centers, among other activities, across the Americas, Africa, Asia and Europe.
For more information, please visit embraer.com
Source: Embraer