A financing plan of nearly 300 million euros, and new shareholders, an improvement and a turnaround in sales allow Corsair to stay the course and look to the future by offering a rejuvenation to its long-haul fleet, modernized and equipped with the latest generation aircraft, the Airbus A330neo.
This is a choice that has been carefully considered by Corsair teams since 2012, when the option of having a fleet of aircraft from the same Airbus family was chosen for reasons of energy performance, services and savings. With this new generation aircraft, in 251t MTOW configuration its cargo capacity will be able to increase by about 10 tons per flight and with the A330neo delivered last week, Corsair is completing a ramp-up initiated several years ago.
Corsair's fleet is being expanded by five additional A330neo aircraft, the second of which was delivered to the Toulouse delivery center on May 12, 2021. The next aircraft are scheduled for delivery on June 4, December and April 2022.
The first A330neo has been put into service in the French West Indies, and an inaugural flight is scheduled for May 26 on Reunion Island. Eventually, the first three aircraft will be assigned to the Indian Ocean, where the best operational capacity is available.
A strategic aircraft for both Airbus and Corsair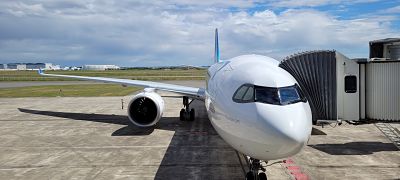 The A330 medium to long-haul aircraft has been ordered by 120 customers for 1,810 aircraft and has a 60 percent share of the market for twin-aisle aircraft from 220 to 440 seats (the Corsair A330neo is configured with 352 seats). This A330neo successor to the A330ceo (current engine option) has been deliberately placed in this market where Airbus has had the most sales and customer potential and Airbus has included the latest technological innovations from the A350.
2nd A330neo delivered to Corsair on May 12, 2021
To date, more than 300 A330neo aircraft have been ordered by 21 airlines, of which 60 have already been delivered. This latest generation model offers more possibilities and performances. The A330neo with 251t MTOW offers up to 10 tonnes of additional payload over long distance flights. And part of its success is its extreme reliability, which benefits airline operations and costs.
The A330neo is also a more eco-friendly and quieter aircraft.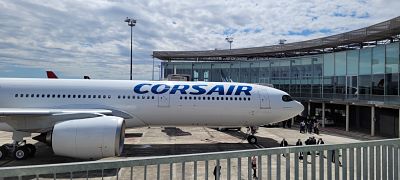 By modernizing its fleet with the introduction of the A330neo, Corsair is contributing to a better environement and to the energy transition: this aircraft substantially improves the environmental performance of long-haul routes by reducing noise pollution and fuel consumption.
With the A330neo's wing completely redesigned, optimized for increased aerodynamic efficiency and equipped with new fuel-efficient engines, Corsair is ready for the future.
The A330neo not only reduces carbon dioxide and noise emissions, but also reduces emissions of all gases that can be emitted, such as nitrogen oxides.
Corsair's A330 is the quietest of the long-haul aircraft of its category, which gives it a clear environmental advantage. The aircraft is well above current standards in terms of environmental noise reduction. Cabin noise comfort has also been improved.
The A330neo aircraft therefore offers greater comfort at a lower cost per seat.
Particular care has been taken in the choice of seats in all classes.
Corsair's Business class is equipped with Stélia seats
In business class, for example, Stelia seats without baggage racks in the middle of the cabin provide an airy and comfortable environment.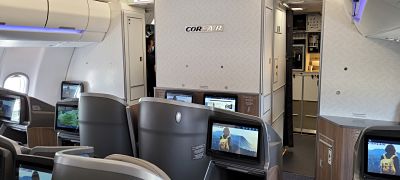 The choice of Skywise service
In terms of operations, the A330neo is designed to benefit from the latest maintenance technologies, avoiding untimely groundings due to failures. Among several possible solutions from different suppliers, Corsair chose the predictive maintenance system called Skywise, developed by Airbus. By monitoring parameters throughout the aircraft and using appropriate software, predictive maintenance can identify and correct any failures that could lead to flight cancellations before they happen.
Revamped Corsair ready for post-COVID recovery.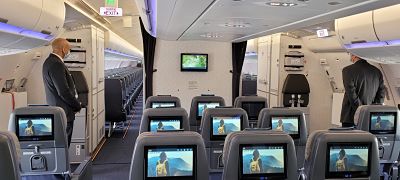 Corsair has revised its organization and announced the recruitment of 50 cabin crew members in the Caribbean. Given the growing importance of in-flight entertainment and connectivity, and attentive to the expectations of its customers, the company is looking for profiles that are increasingly seasoned and sensitive to digital technology.
Safety being a crucial point for the company, Corsair has continually invested in training to bring its flight crews up to speed in order to maintain the right reflexes.
Wishing to refocus on its core operations, Corsair now prefers to subcontract and outsource ancillary functions. "We have sought the best compromise for each function
Corsair remains optimistic for air transport
An increase in the number of flights requires a great deal of preparation, and with June and July remaining the most important months of the year for any airline, the uncertainties related to the resumption of flights as the summer of 2021 approaches remain a matter of great concern for the Company and its President.
The major and non-negotiable challenge for any aircraft manufacturer, equipment supplier or airline is flight safety. This means getting crews into shape and fine-tuning their reflexes, preparing flights and their equipment, and maintaining them. This preparation cannot be done in three days and requires a program well in advance. Despite a lack of visibility on the lifting of health constraints this summer by the administrative authorities, Corsair is preparing for a resumption of flights in June.
Speech by the company's CEO here: https://www.instagram.com/tv/COyDpspo03X/?igshid=1it3z6f34wot0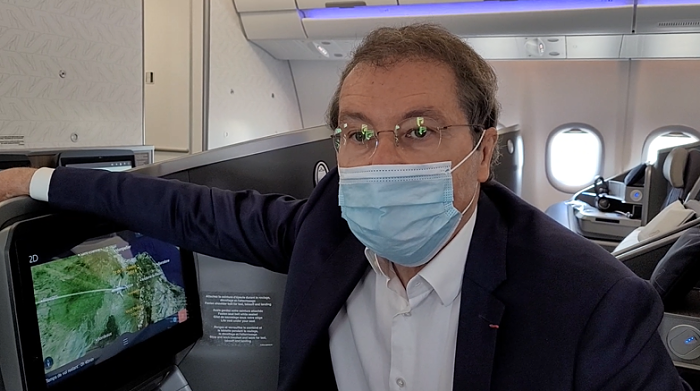 Pascal de Izaguirre, CEO of Corsair remains very confident in the future for Corsair and sends an optimistic message about air transport and the future of the company. The arrival of new A330neo aircraft that are profitable, quiet, comfortable and fuel-efficient for the comfort of future holidaymakers is a clear sign of this.
Nadia Didelot for AeroMorning