June 2022 traffic and co2 emission statistics
Geneva, 4 July 2022: Wizz Air Holdings Plc ("Wizz Air"), the fastest-growing and one of the most sustainable European airlines, today announces passenger and CO2 emission statistics for June 2022.
In June 2022, Wizz Air carried 4,340,115 passengers, representing a 179% increase compared to June 2021, at a load factor of 86.1%.
Wizz Air continued to grow its network and improve its customer offering in June, including:
Wizz Air has signed a Memorandum of Understanding (MoU) with Airbus to explore the potential for hydrogen-powered aircraft operations. The cooperation will allow Wizz Air to analyse the potential for highly efficient, ultra-low-cost hydrogen powered operations.
Wizz Air also announced it will be returning to a systemic jet fuel hedge policy. Given the sustained and ongoing volatility in commodity prices Wizz Air has decided to reinstate a hedging policy and will be aligning it to those of its peers. More detail on this announcement can be found at the following link: https://ir.q4europe.com/Solutions/WizzAir/2372/newsArticle.aspx?storyid=15459350
Wizz Air announced launching of new routes to Dammam, the Kingdom of Saudi Arabia from Rome, Vienna and Abu Dhabi. The new routes are a step towards a growing presence in the Kingdom of Saudi Arabia, which will offer affordable, point-to-point travel for tourists and residents in the Kingdom, Europe and the UAE.
Wizz Air continuously operates amongst the lowest CO2 emissions per passenger/km amongst all competitor airlines, with 59.6 grams per passenger/km for the rolling 12 months to 30 June 2022. For the month of June, CO2 emissions in grams per passenger/km were 20.6% lower compared to same month last year, as we witness an improvement in load factors over same time.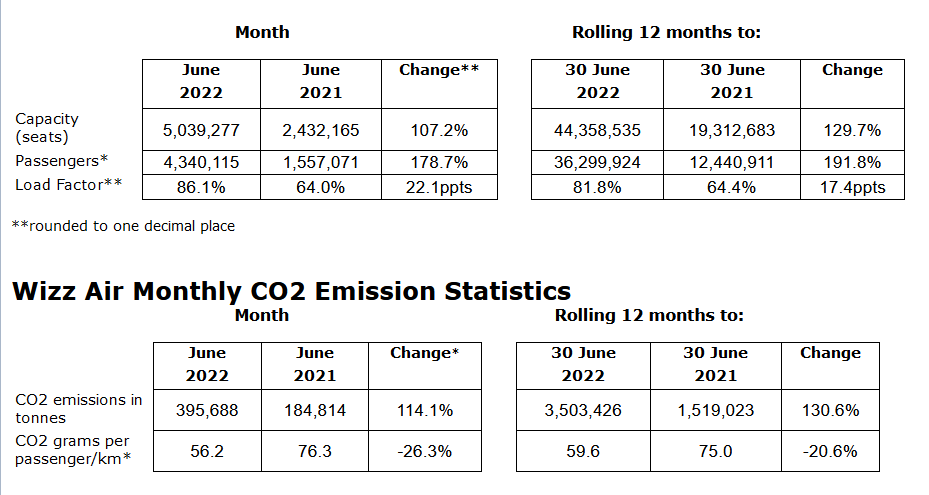 ABOUT WIZZ AIR
Wizz Air, the fastest growing European ultra-low-cost airline and one of the most sustainable, operates a fleet of 157 Airbus A320 and A321 aircraft. A team of dedicated aviation professionals delivers superior service and very low fares, making Wizz Air the preferred choice of 27.1 million passengers in the Financial Year F22 ending 31 March 2022. Wizz Air is listed on the London Stock Exchange under the ticker WIZZ. The company was recently named one of the world's top ten safest airlines by airlineratings.com, the world's only safety and product rating agency, and 2020 Airline of the Year by ATW, the most coveted honour an airline or individual can receive, recognising individuals and organisations that have distinguished themselves through outstanding performance, innovation, and superior service, and was also rated the most sustainable airline in Europe by Sustainalytics in January 2022.