Analysis of industry data (1) by Colibri Aircraft, the private jet broker which specialises in the marketing, resale and purchase of pre-owned private aircraft, reveals that 154 pre-owned private jets were bought in Europe last year, with an estimated total value of $1.01 billion. The number of pre-owned jets sold in Europe in 2019 was 152.
The average price per pre-owned jet purchased in Europe last year was $6.54 million, which reveals that prices remained fairly steady as demand for business aviation during the crisis remained strong. In January 2021, for example, the number of business aviation flights globally was only down by 9.1% compared to the same month in 2020.
Colibri Aircraft's analysis reveals that Germany saw the largest number of pre-owned business aircraft sales in 2020 – 32 private jets were bought worth an estimated $127 million.  The second largest market by value of aircraft sales was the UK, which saw 14 private jets bought worth $118.2 million.  This was followed by Malta which saw 16 pre-owned business aircraft bought for collectively $112.1 million.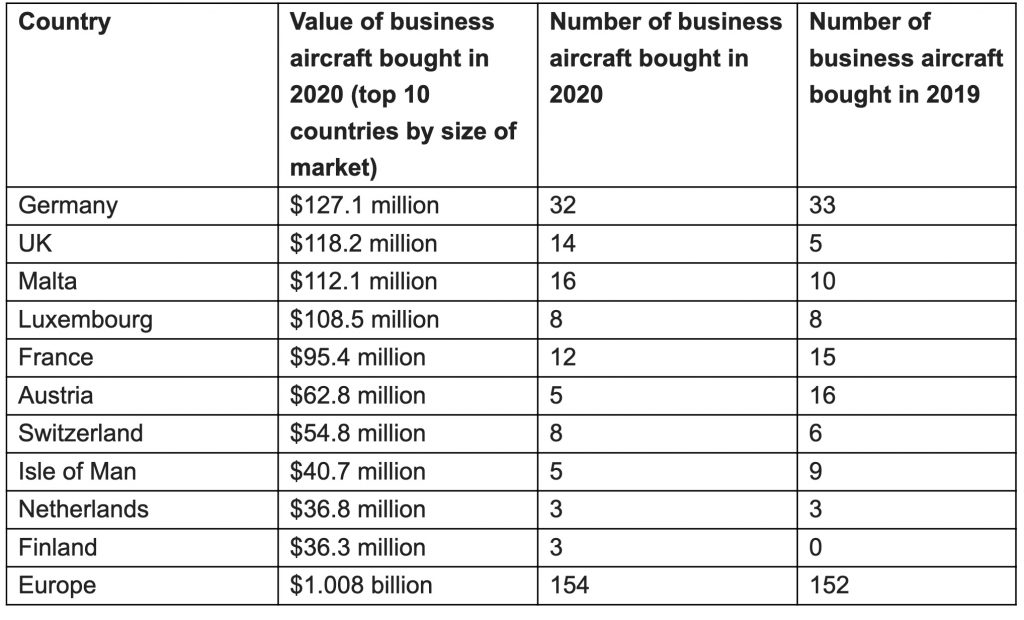 Oliver Stone, Managing Director, Colibri Aircraft said: "The European private jet market has held up well during the Coronavirus crisis. There were 41,154 business aviation departures in Europe in 2020, which was only down by 22.8% on 2019 (2).
"Between April 2020 and December 2020, the number of commercial aviation departures in Europe was down between 88% and 51% on a monthly basis when compared to the same months in 2019. (2)
"Our research also shows that the sale of pre-owned private jets has remained strong, and this has potentially been supported by new first-time buyers – people who are now interested in buying their own jet because of the crisis." 
Source : Colibri Aircraft