Liebherr-Aerospace Brasil receives new Embraer approvals
Approval for mechanical assembly of components
Homologation of blasting process (Bright Shot Peening)
Liebherr-Aerospace Brasil entered on the approved suppliers list of Embraer to carry out the mechanical assembly and component blasting process. With the approvals, Liebherr-Aerospace Brasil increases its scope of supplying qualified services to Embraer and to other customers.
Guaratinguetá (Brazil), December 2021 – Liebherr-Aerospace and Embraer already have a long partnership that lasts for decades. But that does not mean that the scope of services is closed: Liebherr-Aerospace Brasil is constantly updating its processes to be prepared to meet the new Embraer's and aerospace market's demands.
Accordingly, Embraer included Liebherr in the approved suppliers list to carry out the components' mechanical assembly process and also for sandblasting (Bright Shot Peening), enabling the supply of more complete products with machining, surface treatment and mechanical assembly. These new approved processes allow new possibilities also for other Embraer suppliers that can use Liebherr-Aerospace Brasil as a subcontractor, increasing the possibilities of Embraer's local supply chain.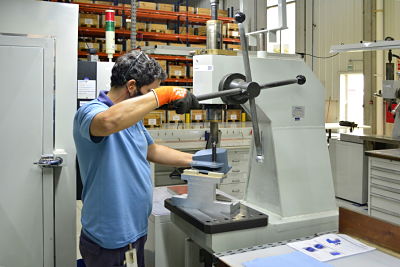 "Two components were used for the approval process. But we are not limited to that, as the approval covers the process. So from now on, we can offer and produce parts with bushing assemblies and other mechanical assembly components", explains Patricia Lima, Sales Supervisor at Liebherr-Aerospace Brasil.
The assembly process of this standard generally includes cryogenic assembly activities (using furnaces and liquid nitrogen), with hand press use, sealant application and bushing reaming, with tools specially made for this purpose.
The sandblasting process, which is usually done by launching thousands of micro-particles on the piece, leaves it ready to receive painting and other finishes. In addition, it provides the product at certain points with characteristics that increase fatigue resistance.
Liebherr-Aerospace Brasil has vast experience within the Liebherr Group in manufacturing and assembling components for the aviation industry. The company based in Guaratinguetá (near São Paulo) specializes in machining, surface treatment, assembling and supplying products not only to Embraer, but also to other international customers.
About Liebherr-Aerospace & Transportation
Liebherr-Aerospace & Transportation SAS, Toulouse (France), is one of eleven divisional control companies within the Liebherr Group and coordinates all activities in the aerospace and transportation systems sectors. Liebherr-Aerospace is a leading supplier of systems for the aviation industry and has more than six decades of experience in this field. The range of aviation equipment produced by Liebherr for the civil and military sectors includes flight control and actuation systems, gears and gearboxes, landing gear and air management systems as well as electronics. These systems are deployed in wide-bodied aircraft, single aisle and regional aircraft, business jets, combat aircraft, military transporters, military training aircraft, civil helicopters and combat helicopters. Liebherr's aerospace and transportation systems division employs around 6,000 people. It has four aviation equipment production plants at Lindenberg (Germany), Toulouse (France), Guaratinguetá (Brazil) and Nizhny Novgorod (Russia). These production sites offer a worldwide service with additional customer service centers in Saline (Michigan/USA), Seattle (Washington/USA), Montreal (Canada), Hamburg (Germany), Moscow (Russia), Dubai (UAE), Bangalore (India), Singapore and Shanghai (People's Republic of China).
About the Liebherr Group
The Liebherr Group is a family-run technology company with a highly diversified product portfolio. The company is one of the largest construction equipment manufacturers in the world. It also provides high-quality and user-oriented products and services in a wide range of other areas. The Liebherr Group includes over 140 companies across all continents. In 2020, it employed around 48,000 staff and achieved combined revenues of over 10.3 billion euros. Liebherr was founded in Kirchdorf an der Iller in Southern Germany in 1949. Since then, the employees have been pursuing the goal of achieving continuous technological innovation, and bringing industry-leading solutions to its customers.