Dassault Aviation designs and produces Falcon aircraft.
Its design offices are located in Saint-Cloud and Bordeaux. Final assembly takes place at the Bordeaux-Mérignac facility. Dassault Aviation is responsible for organizing, promoting and supporting sales of Falcon business aircraft for markets in Europe, Africa and the Middle East.
Dassault Falcon Jet is the US subsidiary of Dassault Aviation.
It is responsible for marketing, sales and support activities in North and South America, Asia and the Pacific Rim.
The Little Rock (Arkansas) site, the group's largest facility in terms of surface area and workforce, is the aircraft completion center.
Dassault Falcon is a brand name used for international sales promotion.
Dassault Aircraft Services is the name of the five factory owned service centers based in: Le Bourget (Dassault Falcon Service, France), Little Rock, Wilmington, Reno (USA) and Sao Paulo (Brazil).
A network of 29 Approved Service Centers completes the Dassault Aircraft Services coverage.
Participations of Dassault Aviation in companies linked to the Falcon world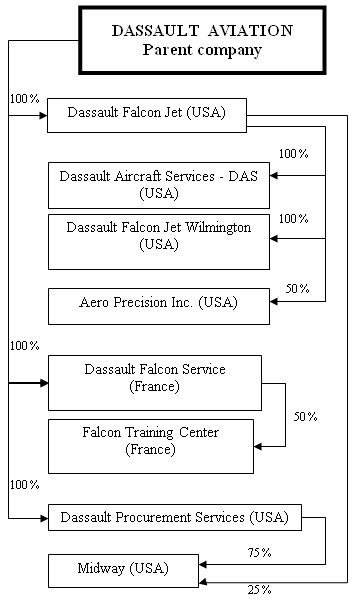 Companies and activities
Dassault Falcon Jet
– Teterboro (New Jersey)
Headquarters of Dassault Falcon Jet
Coordination of marketing, sales and support activities for the America and Asia-Pacific region
– Little Rock (Arkansas)
Falcon completion center
Maintenance center
– Wilmington (Delaware), Reno (Nevada), Sao Paulo (Brazil)
Maintenance centers
Midway Aircraft Instruments Company (Teterboro)
Repair and overhaul of cockpit instrumentation
Dassault Procurement Services (Paramus)
Procurement of aeronautical equipment for Falcon aircraft
Aero Precision Inc. (Deerfield Beach)
Repair and overhaul of Falcon equipment
Dassault Falcon Service (Le Bourget)
Maintenance cente, airline and FBO (air operations and services for operators)
Source: Dassault Aviation