When:
19 April 2023 – 21 April 2023
all-day
2023-04-19T00:00:00+02:00
2023-04-22T00:00:00+02:00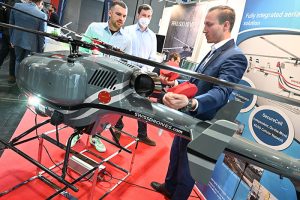 Friedrichshafen, Germany – Unmanned aerial vehicles (UAV) have triggered a revolution in aviation. They enable missions that were previously unthinkable. At the AERO show (April 19 – 22, 2023), AERODrones will once again be a special trade fair that will be extended by one day due to its great success.
Unmanned aerial vehicles (drones) offer great benefits for society. They cover a wide range of tasks and are indispensable in civilian use by authorities and law enforcement agencies. But drones have also long since become everyday tools in other areas such as environmental protection, agriculture or the film industry. In the near future, more tasks will be added, for example in logistics. The global market for drones is developing into a business segment that will generate billions of dollars in revenue in the coming years.
The AERO aviation trade show will take place in Friedrichshafen, Germany, and will provide a prominent forum for unmanned aerial vehicles with AERODrones 2023. Following on from the great success of last year's "trade show within a trade show", AERODrones 2023 will be held over three days (April 19 – 21, 2023) instead of the previous two. The expanded event will in 2023 also focus on police forces, fire departments and rescue services in Hall A2 under the theme "Drones in Security Operations". The concept will bring together manufacturers, suppliers and partners from the drone industry with representatives from the various authorities. The focus will be on the exchange of information on new technologies and products as well as missions, operational experience with drones – and their defense – and resulting requirements. The exhibition area will usefully complement the knowledge transfer during the three-day conference program on the stage in Hall A2.
AERODrones takes place in cooperation with the partners of the Baden-Württemberg Police and the German Federal Office of Civil Protection and Disaster Assistance (BBK) and is supported by the Association for Unmanned Aerial Vehicles UAV DACH and CURPAS. Tobias Bretzel, AERO project manager at trade show organizer fairnamic GmbH, says: "We are again expecting more than 50 exhibitors at AERODrones. We already have registrations for participation from companies and organizations such as DJI, Remote Vision GmbH, Droniq GmbH, UMS Skeldar, Spleenlab, M4com System GmbH and the German Red Cross (DRK), among others."
Martin Landgraf, deputy head of the Baden-Württemberg Police Helicopter Squadron, says: "The Baden-Württemberg Police is very pleased to be back as a strong partner at the third AERODrones drone trade event at AERO Friedrichshafen. We are pleased to contribute as an active partner to the important exchange of knowledge and experience between drone users, manufacturers and law enforcement organizations."
For more information, visit www.aero-expo.com und https://www.linkedin.com/showcase/aeroshow
About the event:
AERO 2023 will take place from April 19 – 22, 2023 at the Messe Friedrichshafen exhibition center. AERO is the leading international trade show for General Aviation, Business Aviation and air sports. Aircraft on display will range from civilian drones to gliders, ultralight and LSA aircraft and gyrocopters, helicopters, touring and training aircraft with piston engines or turboprops, and business jets. New propulsion systems, electric flight, state-of-the-art avionics, services and accessories for pilots are further focal points. These topics are also reflected in the AERO Conferences, making Europe's largest General Aviation event also an important platform for knowledge exchange and continuing education. The trade show is organized by fairnamic GmbH, a joint venture of Messe Friedrichshafen and Messe Frankfurt.
About fairnamic GmbH:
With the founding of fairnamic GmbH, the Frankfurt and Friedrichshafen trade fair companies have sealed a partnership with a focus on innovative mobility. Combined expertise as well as market knowledge, global positioning, brand strength and speed will strengthen the market position in the future markets of General Aviation, micromobility, e-bikes and bicycles. The AERO and EUROBIKE brands and their satellites form the focus of the joint venture. The aim is to expand and further develop the two leading trade shows.