Jan
14
Tue
Safety, Ethics and Compliance in Aviation

@ symposium Room, Airbus Central Entity
Jan 14 @ 18 h 00 min – 23 h 45 min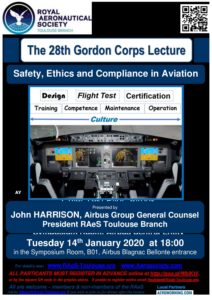 RAeS TLS Poster 200114 – John Harrison – Safety Ethics Compliance in Aviation – 14jan2020_2
The 28th Gordon Corps Lecture
at 18:00 Tuesday 18th January 2020 Symposium Room, Airbus Central Entity
Presented by John HARRISON, Airbus Group General Counsel President RAeS Toulouse Branch
For more details see: www.RAeS-Toulouse.org
ALL PARTICANTS MUST REGISTER IN ADVANCE online at https://goo.gl/WbiKtV
or by the square QR code in the graphic above.
If unable to register online email Register@RAeS-Toulouse.org.
All are welcome – members & non-members of the RAeS
Advise Dinner@RAeS-Toulouse.org if you wish to join us for dinner after the lecture
Tuesday 14th January 2020 at 18:00 in the Symposium Room, B01, Airbus
May
19
Thu
Ultraefficient Aircraft Technologies-Key Building Blocks on the Way to Sustainable Flight, Mini Symposium, 19/05/2022

@ EcoMaT
May 19 @ 17 h 00 min – 20 h 45 min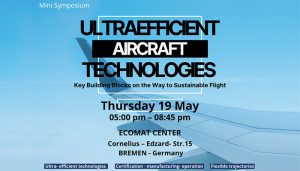 Mini Symposium in cooperation between the DGLR (Faculty L2 – Manned Aircraft) and the Air and Space Academy

Ultra-efficient aircraft technologies for low drag, low weight and low specific fuel consumption are more important than ever to master the challenge towards more sustainable flight. Significant efficiency improvements are mandatory to limit the fuel consumption for next generation aircraft, either to drastically reduce the CO2 impact from still fossile kerosene based propulsion or to mitigate the drawback from the significant affordability challenge of novel zero emission fuels (SAF or H2).
Besides this efficiency challenge also a the capability for more flexible flight trajectories is key, to mitigate non-CO2 impacts on global warming (such as contrails) and to drastically cut noise emissions
Nevertheless, full compliance in terms of certifiability, manageable manufacturing costs and full operational compatibility with the air transport system are crucial requirements to ensure economically viable future products.
👉On this mini symposium a group of experts from DLR, Airbus, Bauhaus Luftfahrt, Universities and DGLR & AAE will present and discuss the challenges and latest technological initiatives and developments in short lectures and pitches. An extensive podium discussion with the lectures and the audience will conclude the symposium.