Jan
14
Tue
Safety, Ethics and Compliance in Aviation

@ symposium Room, Airbus Central Entity
Jan 14 @ 18 h 00 min – 23 h 45 min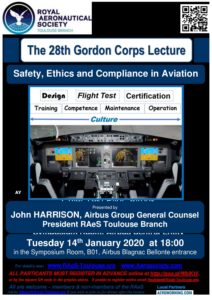 RAeS TLS Poster 200114 – John Harrison – Safety Ethics Compliance in Aviation – 14jan2020_2
The 28th Gordon Corps Lecture
at 18:00 Tuesday 18th January 2020 Symposium Room, Airbus Central Entity
Presented by John HARRISON, Airbus Group General Counsel President RAeS Toulouse Branch
For more details see: www.RAeS-Toulouse.org
ALL PARTICANTS MUST REGISTER IN ADVANCE online at https://goo.gl/WbiKtV
or by the square QR code in the graphic above.
If unable to register online email Register@RAeS-Toulouse.org.
All are welcome – members & non-members of the RAeS
Advise Dinner@RAeS-Toulouse.org if you wish to join us for dinner after the lecture
Tuesday 14th January 2020 at 18:00 in the Symposium Room, B01, Airbus
Apr
6
Wed
"Air transport crisis and climate change"-[LECTURE]-06-04-2022-05:00 pm

@ ETSIAE
Apr 6 @ 17 h 00 min – 18 h 00 min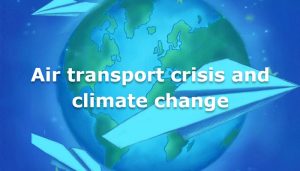 This lecture will be presented in English


Organised by the Escuela Técnica Superior de Ingeniería Aeronáutica y del Espacio (ETSIAE) and the Air and Space Academy (AAE).

PROGRAMME
17:00 – Welcome address by Mrs. Cristina Cuerno, Director of ETSIAE
17:05 – The Air and Space Academy, Mr. Antonio Viñolo, Vice President of the AAE
17:10 – Lecture "Air Transport in Crisis and the Climate Change" presented by Mr. Michel Wachenheim, President of the AAE
17.30 – Round Table
Moderator : Mr. Gustavo Alonso, ETSIAE's Professor
Participants:
Mr. Michel Wachenheim, AAE
Mr. Alfredo Iglesias, AESA (Spanish Aviation Safety Agency)
Mr. Manuel Huertas, Airbus
Mr. Óscar Castro, COIAE (Official College of Aeronautical Engineers of Spain)
Session closure by Prof. Gustavo Alonso