Oct
16
Wed
FLUID PROCESSING MEETINGS

@ Lyon, France
Oct 16 @ 8 h 00 min – Oct 17 @ 17 h 00 min
FLUID PROCESSING Meetings est un événement à taille humaine qui privilégie la qualité et la personnalisation du contact : des rendez-vous pertinents, ciblés et efficaces qui vous font gagner plus que du temps. L'organisation exclusive de rendez-vous entre fournisseurs et donneurs d'ordres, ainsi que la méthodologie de la convention d'affaires, garantissent des entretiens à haute valeur ajoutée.
Nov
14
Sun
Key industry and government leaders to take center stage next week

@ Dubai Airshow 2021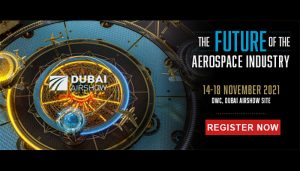 With less than a week to go, we are extremely excited to host some of the most prominent industry and government leaders that will take center stage at the Dubai Airshow 2021 from 14 – 18 November.
With 4 conference stages, 9 tracks and 250+ speakers that will be delivering over 50 hours of content, this year's edition will be unmissable for those keen to discover opportunities, trends and insights from market leaders and trailblazers within the global aerospace industry.
Nov
16
Tue
Comprehensive conference programme at EUROPEAN ROTORS 2021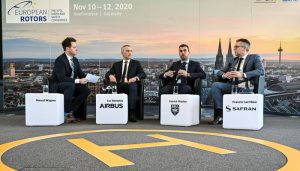 The countdown is on for the premiere of the new EUROPEAN ROTORS trade fair in Cologne (16 to 18 November): Only a few more days, then the show will start. The exhibition hall is fully booked and the extensive and top-class conference programme with over 130 speakers is unparalleled.
The first edition of the new VTOL trade fair EUROPEAN ROTORS (16 to 18 November 2021) in Cologne will not only offer its visitors an exhibition hall that is completely booked with over 150 exhibitors with several innovations and premieres, but also a comprehensive conference, educational and training programme.
Dr. Frank Liemandt, the Show Director of EUROPEAN ROTORS, says: "The educational programme is clearly the second pillar of our event beside the show floor. And an additional USP is the fact that we are not only organizing conferences, but workshops, briefings, and certified trainings. Some of them are already fully booked, others have some few places left. We warmly invite everybody to screen the programme and register now!"
One of the highlights in the programme is EASA's Rotorcraft and VTOL Symposium, held by the European Union Aviation Safety Agency. It is developed to be the premier platform for European helicopter operators and the industry to jointly discuss current and future challenges with the European regulator. The integration into EUROPEAN ROTORS will allow EASA to expand its audience and reach out to new entities within the rotorcraft industry.
In the HEMS Conference, top-level speakers will talk about the future of Helicopter Medical Emergency Services. Will autonomous aircraft take on a stronger role in the rescue chain or will tiltrotor aircraft and multicopters define aerial rescue services in the future? Operators are also going to share their experiences during the COVID 19 pandemic at the conference. Last but not least, the HEMS Conference will address the topic of future legislation for air rescue organisations.
The Offshore Conference will cover the entire spectrum of offshore operations with rotorcraft, from safety in offshore operations to the uses of helicopters in the operation of wind farms at sea and the market prospects for operators of offshore helicopters. Top-level speakers have also confirmed their participation here.
The Vertical Flight Society (VFS) will enrich EUROPEAN ROTORS with four live high-level sessions on innovations in rotorcraft research, future mobility and rotorcraft safety. None other than Jim Viola, President and CEO Helicopter Association International (HAI), will moderate the session Vertical Aviation Safety.
In 2021, forest fires raged again in Europe, which could only be extinguished with help from the air. The threat of such fires is no longer limited to southern Europe. The Firefighting Panel at EUROPEAN ROTORS intends to formulate questions and contribute to a very relevant social issue. Which model – private, public – should adopt member states with forest firefighting arising issues? What should be the regulatory approach should be to allow safe but pan-European operations? What is the role of the European Union in terms of these natural disasters' management? These and more questions to be deeply debated at EUROPEAN ROTORS by top specialists and decision makers in all relevant facets of the problem.
For developers, manufacturers and operators of eVTOLs, the question of supply chain stability is of paramount importance. This will be discussed in detail during a UAM panel by speakers from different countries and different companies.
Workshops on PBN and how to increase their usage are part of the programme as well as a workshop on simulation organized in cooperation with Politechnico di Milano. In the hall, the ESPN-R network team oranises daily practical sessions on HOIST. Certified trainings are offered by Claude Vuichard on the "How to escape the Vortex Ring State" and Hencks & Renz for "Accountable Managers and Nominated Persons". All detailed information are available in the programme section of the EUROPEAN ROTORS eventpage under https://www.visit.europeanrotors.eu/en/events.
With 150 exhibitors this year, EUROPEAN ROTORS is the world's largest trade fair for vertical take-off and landing aircraft. Market leaders such as Airbus Helicopters, Bell Textron, Leonardo Helicopters, Robinson, Safran Helicopter Engines, Boeing Global Services, StandardAero, Pratt & Whitney Canada Corp, RUAG, ESG Elektroniksystem- und Logistik GmbH, AEROMETALS and others will be exhibiting at EUROPEAN ROTORS. The new trade fair is jointly organised by the EHA (European Helicopter Association) and EASA (European Union Aviation Safety Agency).
The exhibition floor will feature an indoor aircraft static display, a drone pavilion as well as a starter area dedicated to new and emerging companies in the rotorcraft market. The trade show covers all aspects of VTOL operations including HEMS (Helicopter Emergency Medical Services), firefighting, public safety, offshore, logging, VIP transport and looks into the next generation of vertical flight with displays of eVTOLs and other unmanned solutions.
Tickets can only be booked online at www.visit.europeanrotors.eu/en
About the event:
"EUROPEAN ROTORS – The VTOL show and safety conference" is where the entire rotorcraft industry meets to grow its business and discuss rotorcraft safety and sustainability. For the first time, the European Helicopter Association (EHA) and the European Union Aviation Safety Agency (EASA) are teaming up to create an exceptional showcase for the European rotorcraft community. The venue will be Hall 8 including the Congress Centre North of Koelnmesse in Cologne, Germany. EUROPEAN ROTORS will be the unique leading platform offering the industry an exhibition where all stakeholders (including Original Equipment Manufacturers (OEM), suppliers and operators) gather to do business and share knowledge. Vertical Take-Off and Landing aircraft (VTOL) with difference level of autonomy will also be integrated, as they are an important future technology – either complementary to rotorcraft – or offering new dimensions: for instance, in urban environments.
EUROPEAN ROTORS is organized by the European Helicopter Association in cooperation with EASA who will focus on all aviation safety aspects and with the full support of the leading OEMs such as Airbus, Bell Textron, Leonardo and Safran. Messe Friedrichshafen, the organizer of the well-known General Aviation show AERO Friedrichshafen, is the service provider for the new show.
The concept consists of a trade show combined with a unique conference program including lectures, workshops and certified training courses. The most prominent one is the integration of the well-established EASA Rotorcraft and VTOL Symposium which aims at enabling better collaboration and mutual understanding to enhance global aviation safety.
EUROPEAN ROTORS will be held annually from 2021 onwards.
Further information is available at https://www.visit.europeanrotors.eu/en