January 31, 2022
The Russian Helicopters Holding Company of Rostec State Corporation delivered six helicopters to PSB Leasing Group for the National Service of Sanitary Aviation (NSSA). Three Ansats and three Mi-8MTV-1s produced by the "Kazan Helicopters" were sent to the country's regions.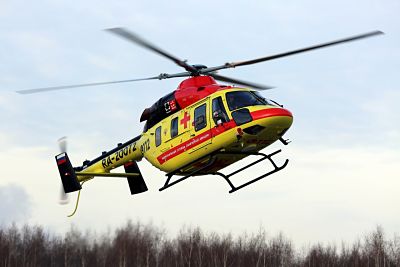 This are supplied under a contract for 66 machines, which was signed a year ago. The first Mi-8MTV-1 helicopter was delivered to the client at the International Aviation and Space Salon MAKS 2021. To date, Rostec's sanitary service has already received 14 helicopters under this contract. At the same time, 22 rotorcraft have been delivered to NSSA under contracts with the Russian Helicopters Holding Company.
"The development of sanitary aviation improves quality, speed and availability of medical services, especially in remote areas. Deliveries of modern helicopters for NSSA picked up the pace. Six more rotorcraft that were transferred for the needs of NSSA will be on duty in various regions of the country: Ansats went to Veliky Novgorod, Beslan and Orel, and Mi-8MTV-1s went to Novosibirsk, Petrozavodsk and Barnaul," – said Oleg Yevtushenko, Executive Director of Rostec State Corporation.
The sanitary aviation are ready to be equipped with medical modules for transporting patients. For instance, Ansats can be fitted with modules for newborns or patients with coronavirus.
Source : Rostec – https://rostec.ru/en/