Toulouse on December 6, 2020
What's new for the 13th edition of the Aeromart show from December 1 to 3, 2020 and on December 8 and 9, 2020 in Toulouse?
As every year for the past 13 years, the international business convention for the aeronautics and space industries called Aeromart is being held in Toulouse, from December 1 to 3, 2020 and on December 8 and 9, 2020, and brings together the entire aeronautics ecosystem. Advanced Business Event (ABE) organizes the event in partnership with the Agence de Développement d'Occitanie (AD'OCC = Occitania Region development body), the Toulouse Chamber of Commerce and Industry and Toulouse Métropole (Toulouse and cities around).
For COVID19 reasons, this Aeromart 2020 convention is 100% digital. It is the only global aeronautical event scheduled and maintained in 2020. The topics on display are Diversification, Innovation, Green Aviation.
Visitors can "virtually" browse the exhibition, participate in conferences and workshops on topical issues, and – through pre-programmed meetings on an interactive platform https://meetings.aeromart-toulouse.com/2020 – get in touch with manufacturers and equipment suppliers, both civil and military, and with suppliers. More than 9,000 business meetings are counted as B to B (Business to Business).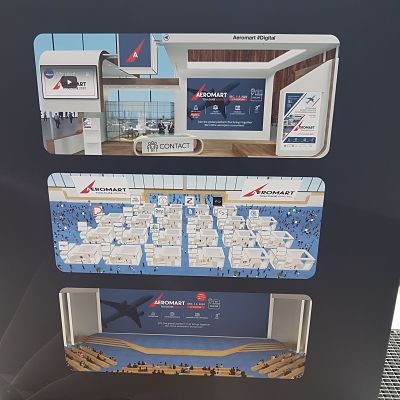 These include the traditional Aeromart highlights, such as the Summit (plenary conference), the Space Industry Summit (bringing together participants from the aerospace industry), the Green Village (bringing together participants involved in a "greener" world), but also new features such as AeroLabs (technology gas pedal for start-ups). A "Toulouse & Occitania Region" area has been set up to promote the region's companies and know-how to potential investors: it will host a dozen innovative aerospace start-ups less than 5 years old.
300 companies are registered in Aeromart 2020 Toulouse and the following Tier 1 international companies are participating in Aeromart #Digital Toulouse edition 2020:
Aernnova Aerospace – Airbus – Airbus Defence & Space – Airbus Helicopters – Airbus Interior Services – ATR – Boeing Commercial Airplanes – Bombardier – Comac – Corse Composites Aéronautiques – Daher Aerospace – Diehl Defence – Embraer – Fiat Chrysler Automobiles (FCA North America) – Figeac Aero – Groupe Lauak – Hutchinson – Latécoère – Liebherr Aerospace – MBDA Italia – Mecachrome – MHI RJ Aviation Group – Mitsubishi Heavy Industries Canada Aerospace (MHICA) – Pratt & Whitney – Safran Aircraft Engines – Safran Electrical & Power – Safran Landing Systems – Safran Nacelles – Superjet International – TAI – Thales Avionics – Thales Systèmes Aéroportés – Thales Alenia Space.
Aeromart also welcomes projects to set up or partner in Occitania, as AD'OCC, one of the major players at the show, has 25 years of expertise and experience in helping aeronautical companies set up operations in Occitania. The Economic Development Agency of the Occitan Region offers a personalized follow-up carried out by its project managers. They accompany and advise free of charge the projects of development and establishment in Occitania.
For this Fair we can mention, without being exhaustive, the interventions of the following participants:
Nadia Pellefigue, Vice-President of the Occitania Region: The central message of her speech is that the Aeromart 2020 show is a show forced to change, which was the opportunity to engage more strongly in this shift to digital.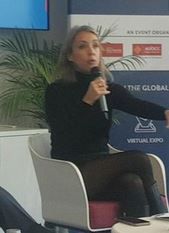 "We can be proud of this event, Aeromart 2020, an international trade show based in Toulouse, which is able to achieve digital switchover, as well as contribute to the ecological switchover in the aviation sector. It's a great model for the trajectory of the future. »
Stéphane Castet, CEO of ABE adds: "At trade fairs such as the Startup Fair in Tel Aviv or the CES in Las Vegas, many companies are working on the technologies of the future. But we have our own particularities and Aeromart is first and foremost the animation of a community. Of course, we need to develop the show with a platform that can be a showcase that will help medium and small size companies and give them visibility in a targeted market. But it is not the tool that will animate the community that will be gathered on a platform. In this sense, the conferences, the opportunities to interact, the chats, the live platforms of the Aeromart show are going in the right direction. »
Philippe Robardey, President of the Toulouse Chamber of Commerce and Industry (CCI) explains:
"With Covid 19, many of us have implemented in our companies Long Term Partial Activity Protection (government scheme to assist companies during the Covid 19). This means that the time of our employees is counted and that travel, even if authorized, must be reduced in number. Yet we need to innovate, to meet each other, to affirm that we are going to be there and to optimize the time we spend on it. The world is changing, we need to change our behavior, and Aeromart has been able to position itself on these changes, without deviating from its central principle of conviviality. And all this is possible with the digital format of Aeromart 2020".
Yann Barbeaux, President of Aerospace Valley, during the round table on Diversification declared: "Aerospace Valley has been working to improve the competitiveness of the aeronautics industry through collaborative innovation actions since 2005. The cluster has 800 members in Occitania Region and the New Aquitaine Region, including Airbus, ATR, Dassault, Daher, Safran, Thales, Liebherr, and more than 500 enterprises, as well as universities and research centers. Our role is to help projects emerge and find funding. In a context where air transport is going through difficult times, diversified companies are doing better. The context is conducive to this search for diversification, whereas in the past, priority was given to supporting the increase in aeronautics production rates. With the technology developed for Air Transport, there are many opportunities to position themselves in the fields of health, defense, civil security, renewable energies, agriculture, ground transportation and new forms of mobility. The aim is to move away from dependence on air transport alone and make societies more resilient. »
Mr Philippe Billebaut CEO Aertec also spoke at the Round Table on Diversification:
"The Aertec Group was created in 1993, with a turnover of 23 million euros and 230 employees, works in a wide variety of fields: textile products for aircraft, trains and water sports, aircraft cabin equipment, painting of parts, maintenance activities. Initially focused on aeronautics, the Aertec group, faced with the crisis, has diversified in terms of products and customers adding BtoB (Business To Business) to BtoC (Business to Customer) and thus going from 30 to 40 customers to 2500 customers and sales on the Internet. "
To avoid closing its brandnew plant making curtains for Airbus and Boeing aircraft, the Toulouse-based company Aertec began manufacturing washable masks at the end of March 2020. By the end of June 2020, it will have manufactured one million of them. Philippe Billebaut added; "Aertec's employees are full of ideas and the company is filing patents for innovations, such as the luxury comforters, which correspond to Aertec's diversification into luxury home products. This has required industrial restructuring with 650,000 euros of investment. «
Mr. Fiorentino Giuseppe, Sogeclair Sales Director, also gave us an insight into what Diversification represents for the group: "Sogeclair is an industrial group established on 5 continents with 2 main activities: mechanical and systems engineering applied to aeronautics, defense, energy, space and transport. The workforce is 1650 people with an annual turnover of 190 million euros. Diversification is a natural part of a company's growth and the Covid 19 crisis is a reminder of this. A company which is interested in several sectors is an actor which allows other fields to access the technological advances that this company brings. Diversification starts by observing the markets, identifying expectations and points of convergence between the market and the company's capacities, developing a plan to be staggered. It is a long process which, for Sogeclair, is beginning to bear fruit with the railways, which is on the upswing, is moving up in the technology ladder and is interested in the contribution of aeronautical expertise. The same goes for the space sector, which has been developing a lot in recent months, with good prospects. »
On this subject Alexandre Bonnarme, VP Sales and Marketing WeAre Group declares: "WeAre Group was created in 2015 by the merger of 3 family companies, joined by a 4th one in 2017. The company carries out machining, milling, 3D printing and employs 1400 people in France, Morocco and Tunisia. The annual turnover is 160 Million Euros of which 80% in aerostructures and the rest in diversification. The acquisition of new customers being difficult, it is necessary to keep the existing ones by insisting on quality, while continuing the actions of diversification. The company has carried out a very thorough analysis of its competitiveness with a major in-depth study of its industrial capacity and the means to improve it. This to be sure to adapt to the identified diversification markets: telecommunications, defense, medical. Eventually, the share of aerostructure revenues should decrease in favor of diversification activities, with an increase in annual revenues. »
Conclusion: as we can see, the Covid 19 crisis is a considerable challenge that aeronautical companies have to overcome, but also a formidable field of opportunities to develop towards digital and to commit to new fields of activity with the advantage of the aeronautical technology they possess. Those who are able to achieve this diversification will be more resilient. Nadia Didelot for AeroMorning.