For the first quarter of 2021, the Parrot Group is reporting consolidated revenues of €12.4m. The American subsidiary specialized in precision farming sensors (Micasense), sold on January 27, 2021, is no longer consolidated from the first quarter of 2021 and its revenues have been eliminated from 2020 to obtain a comparable basis. The realignment around commercial drones is delivering a range of benefits: at constant exchange rates, Group revenues (comparable basis) are up 6.5% (stable at current exchange rates) compared with the first quarter of 2020.
Over the period, the Group's commercial development was marked by:
The 50.5% increase in revenues for micro-drones (+56.9% at current exchange rates) to €4.8m, driven by strong sales growth for commercial micro-drones from the ANAFI range and the ANAFI USA in particular. The robust commercial development with professional clients and governments offset, to a great extent, the voluntary scaling down of consumer product sales. The first quarter's performance does not take into account a first order received under the framework agreement signed with the French Defense Procurement Agency (DGA) for 150 systems that will be delivered at the start of the second half of the year.
The €5.6m of revenues generated by the data analysis software. The 8.8% contraction (-2.1% at constant exchange rates) reflects a lower level of use of its software products, held back by the weather conditions seen this winter which restricted drone flights, followed by a very good recovery in March and April. The Group's activity also reflects the ramping up of the business solutions launched at the end of 2019 and continued growth in user numbers, buoyed by a stronger sales structure, progressing from two to four dedicated sales teams serving four regions (North America, Southern Europe and Latin America, Asia-Pacific and China, Northern Europe).
The full renewal of the fixed-wing commercial drone range, with three new eBee models targeting different needs and markets, which were presented in February 2021 and made a very limited contribution over the period. With a limited impact for the health crisis during the first quarter of 2020, compounding the basis for comparison, and the pace of client investments held back by this winter's weather conditions, revenues are down 36.0% to €2.2m. During this first quarter of ramping up production, senseFly focused on the commercial deployment and marketing of its new range, particularly with new distributors specialized in the defense and security sector, and recorded the first sales of a model intended specifically for this market.
PARROT GROUP REVENUES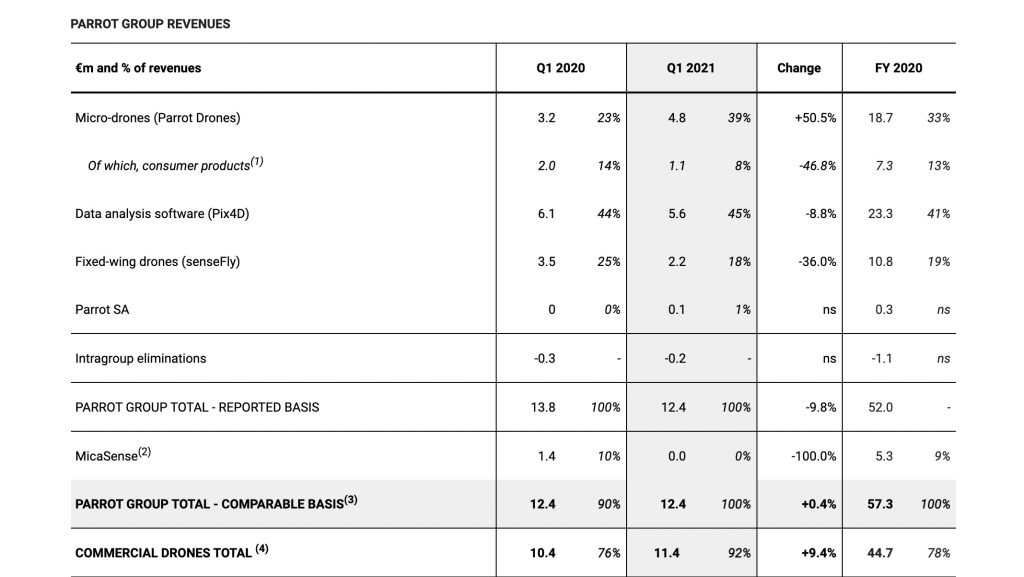 Source : Parrot